Classes & Events — Breathwork w/Liz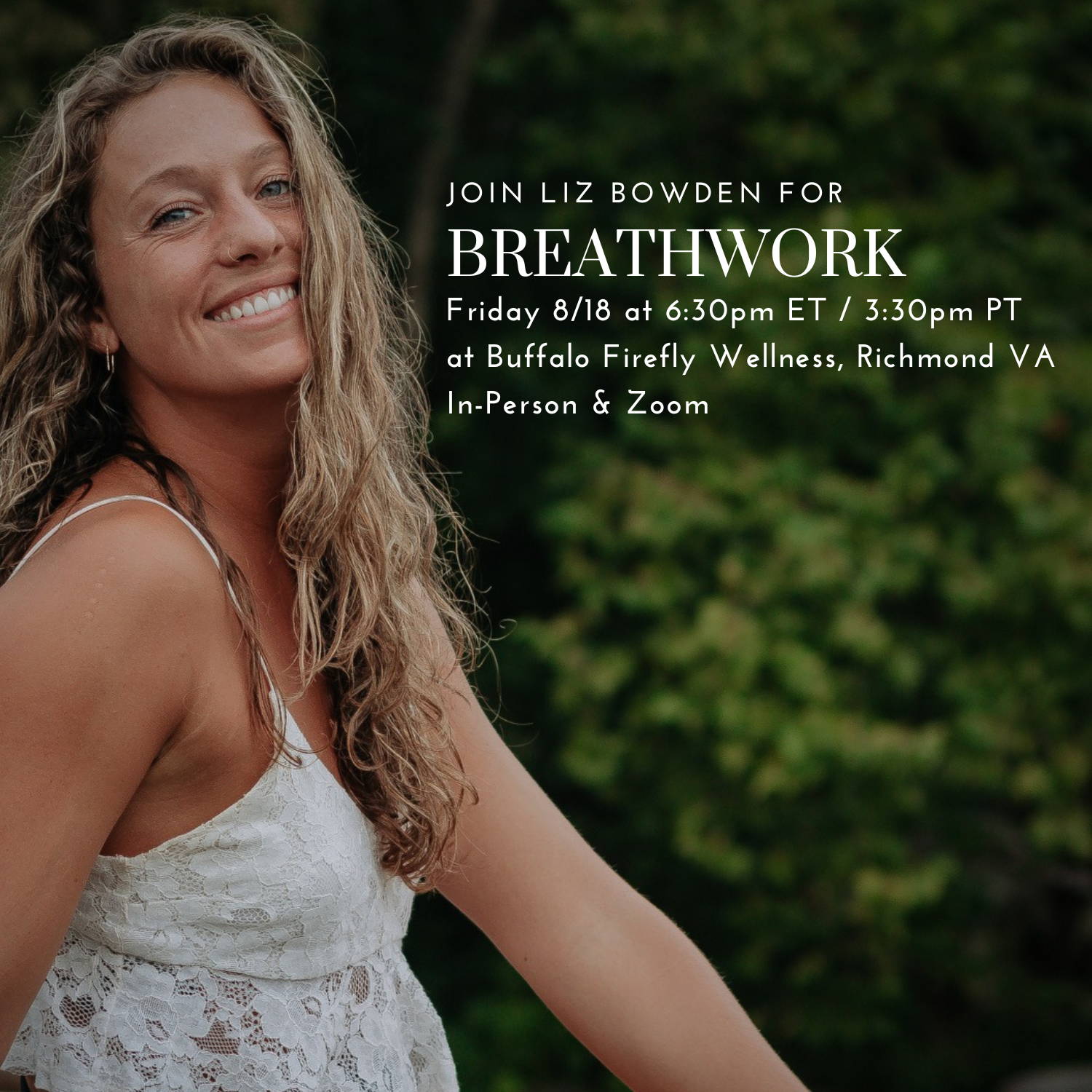 BREATHWORK w/Liz Bowden (she/her) — Friday August 18th, 6:30pm ET, 3:30pm PT

Registration is open until 15 min prior to class. Drop-ins ok if the class is not full.
Liz Bowden is a breathwork guide, microdosing and earth medicine facilitator, and SUP Yoga instructor.
She has lived on off-grid permaculture farms, hitchhiked throughout Patagonia, taught yoga on palm-filled islands, sat with master plant guides, and led retreats in the jungle. Life's rich experiences and time spent in nature are her greatest teachers.
Liz's journey with breathwork has played an empowering role in healing deep-seated trauma, regulating negative self talk, integrating deep spiritual experiences, and reconnecting to body wisdom.
"We hold the wisdom within to heal ourselves. By quieting the mind and allowing space for Spirit, breathwork is key to unlocking this sacred knowledge."
In addition to breathwork, her soul-centered business, ReWild Spirit, offers intuitive coaching and microdosing mentorship to help others break old patterns and addictions, ween off big pharma, expand their capacity for joy and ease, and live in their wild authenticity.
Liz will guide you through a two-part transformational breath that will soothe the mind, activate the body's innate healing capabilities and allow for a deep meditative state where subconscious holds can surface. Unlike other forms of pranayama, this form of breathwork can be highly experiential and allow much inner-work to be done.
Much can unearth during Breathwork. Liz will create a safe and supportive space for you to release blockages and create a deeper connection to Self.
Breathwork is for you if you wish to:
Move stuck and blocked energies and mindsets.
Reset and balance the nervous system.
Integrate after a deep spiritual experience.
Access the body's intrinsic wisdom and gain *clarity*. 

Connect with your intuition. 

Lighten and lift heaviness in the body and mind.

Heal deep-seated trauma and narratives hidden within both the subconscious and the physical body.

Cultivate radical self-love, a nourishing mindset, and emotional peace. 

Breath is our essential medicine. ❤️‍🩹
Our events are offered both in-person in Richmond VA and virtually on Zoom. We have space for a limited number of people in person and plenty of spots online! If you would like to be in person and we appear sold out, please contact us.
Our sliding scale works like this. Choose what price works for you. If using a code, copy the code from below. Click the Registration button. Click "sign up" and you will see a button to "redeem" a coupon code. Paste it in the box, 'Apply' the code and check out.
We never want cost to be a barrier to our offerings. If the lowest price tier is still inaccessible for you, contact us. If you would like to contribute to our access funds, you can add a donation at checkout.
Tier 1: $44 no code needed
Tier 2: $33 use code TIER2-$33
Tier 3: $22 use code TIER3-$22
Register at the links below:
(In-Person) Breathwork w/Liz in Richmond, VA — Register here to attend in-person at 4025 Macarthur Ave, Richmond VA.
(Online) Breathwork w/Liz on Zoom — Register here to attend virtually on Zoom.