Classes & Events — Communing with Shadow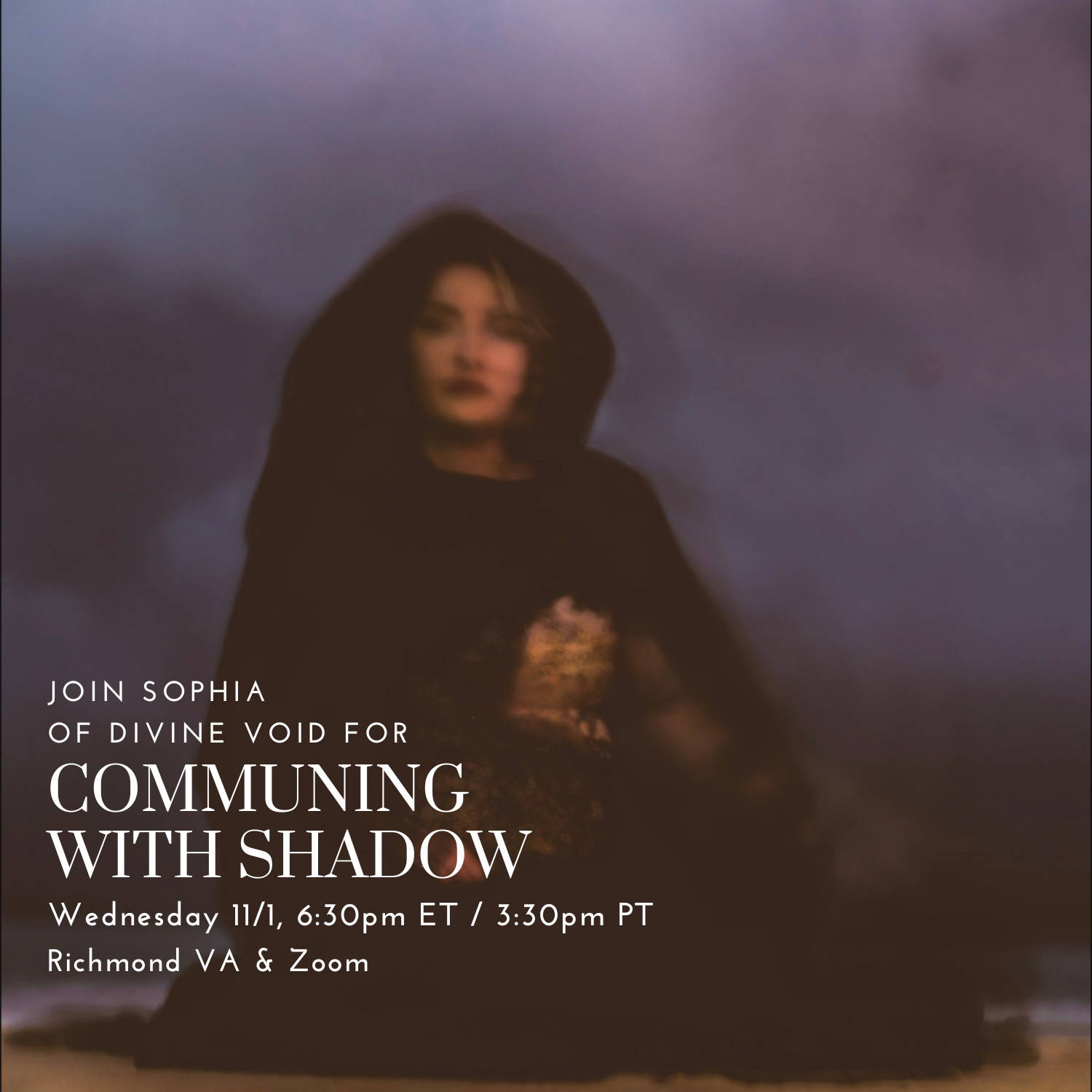 COMMUNING WITH SHADOW w/Sophia of Divine Void — Wednesday November 1st at 6:30pm ET, 3:30pm PT

Join Sophia Hornyak in a sound-centric meditation journey to the depths of your subconscious.
Shadow holds all the pieces of our primal being that have been repressed. It holds the root of our learned limiting beliefs, guilt, shame, embarrassment, and fear. When we ignore shadow, we restrict our soul's instinct, creating blocks that bottleneck creativity and our ability to evolve past outside criticism. If we utilize shadow the same way we utilize our higher selves, we create a relationship that gives us a deeper understanding of what limits us.
The soundtrack to this session is a tailored playlist that utilizes various sound waves to induce a deep meditative state. Sophia will guide you through your journey to your shadow-self with prompts to receive guidance around limiting beliefs or fears.
Come in comfortable clothing and feel free to bring a journal to record your experience. Laying down mats, head cushions, blankets, and eye covers will be provided for in-person attendees.
Events are offered both in-person in Richmond VA and virtually on Zoom. We have space for a limited number of people in person and plenty of spots online! If you would like to be in person and we appear sold out, please contact us.
Our sliding scale works like this. Choose what price works for you. If using a code, copy the code from below. Click the Registration button. Click "sign up" and you will see a button to "redeem" a coupon code. Paste it in the box, 'Apply' the code and check out.
We never want cost to be a barrier to our offerings. If the lowest price tier is still inaccessible for you, contact us. If you would like to contribute to our access funds, you can add a donation at checkout.
Tier 1: $55 no code needed
Tier 2: $44 use code TIER2-$44
Tier 3: $33 use code TIER3-$33
Register at the links below:
(In-Person) Communing with Shadow w/Sophia in Richmond, VA — Register here to attend in-person at 4025 Macarthur Ave, Richmond VA.
(Online) Communing with Shadow w/Sophia on Zoom — Register here to attend virtually on Zoom.
Sophia Hornyak of Divine Void (she/her)
Sophia is a lifelong seer hailing from a family of root-workers who immersed her in the traditions of their ancestors. She practiced alongside a diverse group of magical practitioners out of Harry's Occult in Philadelphia, and is an Akashic teacher, having studied under Akashic leaders such as Linda Howe and Helen Vonderheide.
Her personal practice is a blend of Bhakti yoga, The Western Mysteries Traditions, Angelic practorium through antiquity, and Judaic Mysticism.
Sophia's sessions are unique and innovative. Her passion is in creating community for those who identify loners and helping people face fears. Her purpose is to help others deepen their relationship with their "Spiritual Ecosystem."