Classes & Events — Cacao Ceremony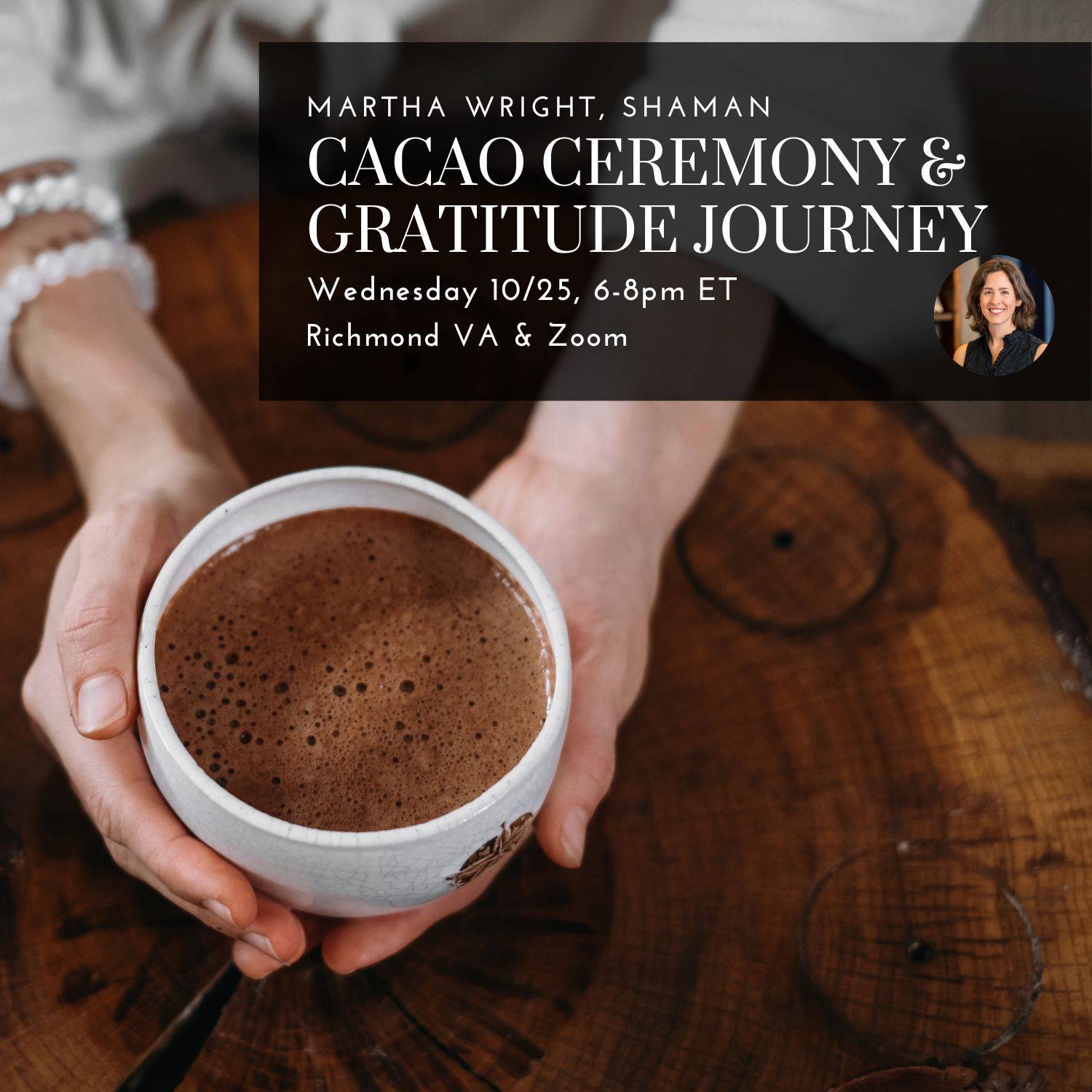 CACAO CEREMONY & GRATITUDE JOURNEY w/Martha Wright — Wednesday October 25th at 6pm ET, 3pm PT

Sliding Scale:
*In-Person (includes Cacao): $88, $77, $66
*Online (does NOT include Cacao): $66, $55, $44

See below for information/links on where to purchase ceremonial grade Cacao.
During this Cacao Ceremony & Gratitude Journey, Martha Wright will share wisdoms about Cacao as medicine & the mythological significance of Samhain (winter). She will hold a guided journey of divinely-sourced gratitude where we will honor the past year(s), and hold space for you to receive healing transmissions from the Celtic Goddess Badb (pron. Bive, like "hive") and the plant Spirit of Cacao.
Cacao is an amazing heart opener. The plant spirit of Cacao brings gentle yet abundant love to the heart, warms you, and shows you the divine truths that your soul has needed to witness. Cacao guides us with a loving hand and will bring you an experience you didn't expect to have, but you'll find you couldn't have wished for anything different.
This event is offered both in-person in Richmond VA and virtually on Zoom. If you are attending virtually, you will need to acquire your own Cacao - see below for sources. We have space for a limited number of people in person and plenty of spots online! If you would like to be in person and we appear sold out, please contact us.
When sourcing Cacao, look for the following notes:
Community Supportive (the site may or may not say Indigenous)
Ceremonial Grade Cacao
Ritual Grown/Harvested
Fair Wage or Fair Trade
Martha's Suggestions:
Ruk'u'x'Ulew: 100% Mayan owned, all Indigenous women's collective
producing artisanal Guatemalan grown ceremonial Cacao.
Embue Cacao: Certified organic Cacao, fair wage and directly sourced from small family farms in Guatemala.
Ora Cacao: Certified USDA organic Cacao, ethical & direct trade with small family farms from Belize, Columbia, Guatemala, and Tanzania.
Sage Cacao: Organic, Ceremonial Grade Guatemalan and Peruvian Cacao
Our sliding scale works like this. Choose what price works for you. If using a code, copy the code from below. Click the Registration button. Click "sign up" and you will see a button to "redeem" a coupon code. Paste it in the box, 'Apply' the code and check out. If you have any questions, feel free to contact us
In-Person (Cacao included)

Tier 1: $88 no code needed
Tier 2: $77 use code TIER2-$77
Tier 3: $66 use code TIER3-$66
Online (Cacao not included)
Tier 1: $66 no code needed
Tier 2: $55 use code TIER2-$55
Tier 3: $44 use code TIER3-$44
Register at the links below:
(In-Person) Cacao Ceremony in Richmond, VA — Register here to attend in-person at 4025 Macarthur Ave, Richmond VA. Cacao will be provided and prepared for you.
(Online) Cacao Ceremony on Zoom — Register here to attend virtually on Zoom. You will need to acquire and prepare your own Cacao.
About Martha Wright (she/her) Bean Faesa, Bean Sidhe, Bean Leighis, Shaman
Martha Wright is a Bean Feasa (Wise Woman in the Ancient Irish Tradition) who has had years of apprentice training in core shamanism, Egyptian mysteries and Celtic spirituality. Her training also includes Cacao facilitator, Breathwork and she is Trauma informed. Martha honors the lineages who she has learned from, respects the original ancestors of the land, and does her best to bridge the modern community with Spirit. You can read more about Martha on her website and on Instagram.